Christmas Light Installation In Orono, MN
Getting your home ready for the Holidays is easy with GreenLine Home Washing! Our valued clients reached out to us after their new home was built in the western metro. No way did they want to risk falling from the roof with these steep peaks and have lights dangling from the gutters like years past. They wanted it done by a professional!
Our knowledgeable Christmas lighting experts provided custom lighting options for their home within minutes of talking on the phone and seeing a few pictures. We explained how each strand of lights was custom installed by our trained professionals to fit each peak and gutter line. They chose the elegant and classy warm white LED design and it fit their home perfectly!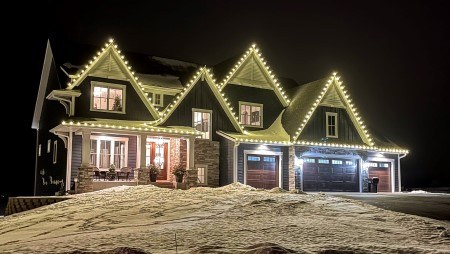 Not only does GreenLine Home Washing custom install the lights, we also remove after the holidays, and store for the off-season. Next fall all of the lights are ready to go! No more digging through the attic for a ball of knotted lights.
Your husband is not Clark Griswold. Call GreenLine Home Washing for all of your exterior Christmas lighting needs.
Christmas Light Installation Gallery