services
Remove Stains From Your Minneapolis Driveway or Sidewalk With Concrete Washing
Even with the utmost care, the concrete surfaces surrounding your Minneapolis residence inevitably fall victim to staining over time. The very same airborne contaminants that affect your home also take their toll on your property's concrete. Moreover, your driveway faces exposure to vehicle leaks, including unsightly motor oil or power steering fluid stains. Embrace the solution: a comprehensive concrete cleaning from GreenLine Home Washing that effectively eradicates these persistent blemishes.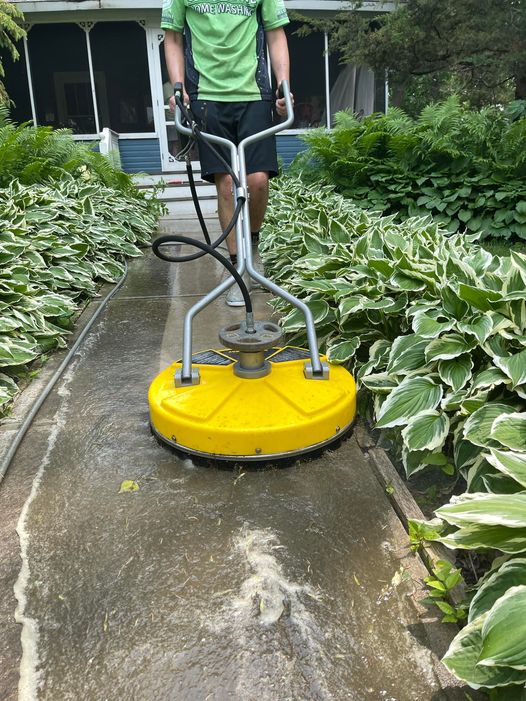 Renew Your Surfaces with Concrete Pressure Washing
Elevate the appearance and safety of your property with our top-tier concrete cleaning service. Over time, concrete surfaces around your home can accumulate stains, grime, and even hazardous substances, creating a potential safety risk. Our specialized pressure washing techniques ensure a thorough and deep clean, effectively eliminating stubborn stains, mold, mildew, and other contaminants. Whether it's your driveway, walkways, patio, or any other concrete area, our skilled professionals utilize environmentally friendly solutions and cutting-edge equipment to restore your surfaces to their original brilliance.
Benefits of Concrete Pressure Washing
Having concrete pressure washing done offers a range of compelling benefits that contribute to the overall aesthetics, safety, and longevity of your property:
By opting for professional concrete pressure washing, you're investing in the long-term beauty, safety, and value of your property while enjoying the immediate satisfaction of stunningly clean and vibrant outdoor surfaces.
The GreenLine Home Washing Approach to Pressure Washing
At GreenLine Home Washing, our team of pressure washing specialists is dedicated to employing the precise equipment for each unique exterior cleaning endeavor. Whether it's the meticulous cleaning of concrete, revitalizing decks, or restoring roofs, our approach is tailored to perfection. Utilizing specially formulated cleaners, skillfully balanced with algaecides and surfactants, we effectively banish algae, mold, and other unsightly contaminants from your exterior surfaces, ensuring a flawless and rejuvenated appearance.
GreenLine Home Washing Concrete Cleaning Offers:
Contact our Minneapolis pressure washing experts when you are ready to schedule concrete cleaning.
Our Services
Professional Pressure Washing Services
GreenLine Home Washing offers a wide range of services, including pressure washing, soft washing, roof and gutter cleaning, and eco-friendly exterior cleaning solutions, delivering outstanding results for homes and businesses across the Twin Cities.
Rejuvenate Your Space with Expert Exterior Cleaning from GreenLine Home Washing
Elevate your property's allure and safeguard its integrity with GreenLine Home Washing's specialized exterior cleaning services. Our skilled team employs precision equipment tailored to various tasks, whether it's restoring the vibrancy of concrete, revitalizing decks, or renewing roofs. With our environmentally-friendly approach and expertly mixed solutions, we eliminate algae, mold, and contaminants, ensuring surfaces gleam with brilliance. Don't wait to transform your surroundings – schedule our expert exterior cleaning services today!