services
Roof Cleaning For Your Minneapolis Home
Elevate your Minneapolis home's allure with essential roof cleaning. This proactive maintenance not only extends your roof's lifespan but also eliminates mold, algae, lichen, and moss, enhancing visual aesthetics. Partner with GreenLine Home Washing's soft washing experts for transformative results.
Transform Your Exterior with GreenLine's Expert Roof Washing
Our team of experts recognizes that roof cleaning demands a gentler approach compared to conventional high-pressure washing methods. Employing low-pressure washing, often referred to as "soft washing," we tailor our approach to your rooftop's unique needs, effectively removing detrimental and unsightly contaminants from your roof while safeguarding its structural integrity. Our soft washing method is safe on a variety of roof types including asphalt shingle, metal, and cedar shake.
Why You Need Soft Washing for Your Roof:
When it comes to safeguarding your roof and maintaining its allure, soft washing emerges as the ultimate solution. Unlike traditional high-pressure washing methods, soft washing employs precisely balanced cleaning agents and surfactants, negating the need for harsh water pressure. This approach brings a host of advantages that cater to your roof's delicate needs, including:
The advantages of soft washing transcend the realm of roofs, encompassing a diverse range of applications. This adaptable technique is well-suited for tasks such as gutter cleaning, house washing, and other meticulous endeavors that require expert care. At GreenLine Home Washing, we wholeheartedly embrace the potential of soft washing, ensuring that both your roof and property benefit from its protective prowess while emanating an enchanting allure. Our dedication to harnessing the power of soft washing guarantees a comprehensive and captivating transformation for your entire property.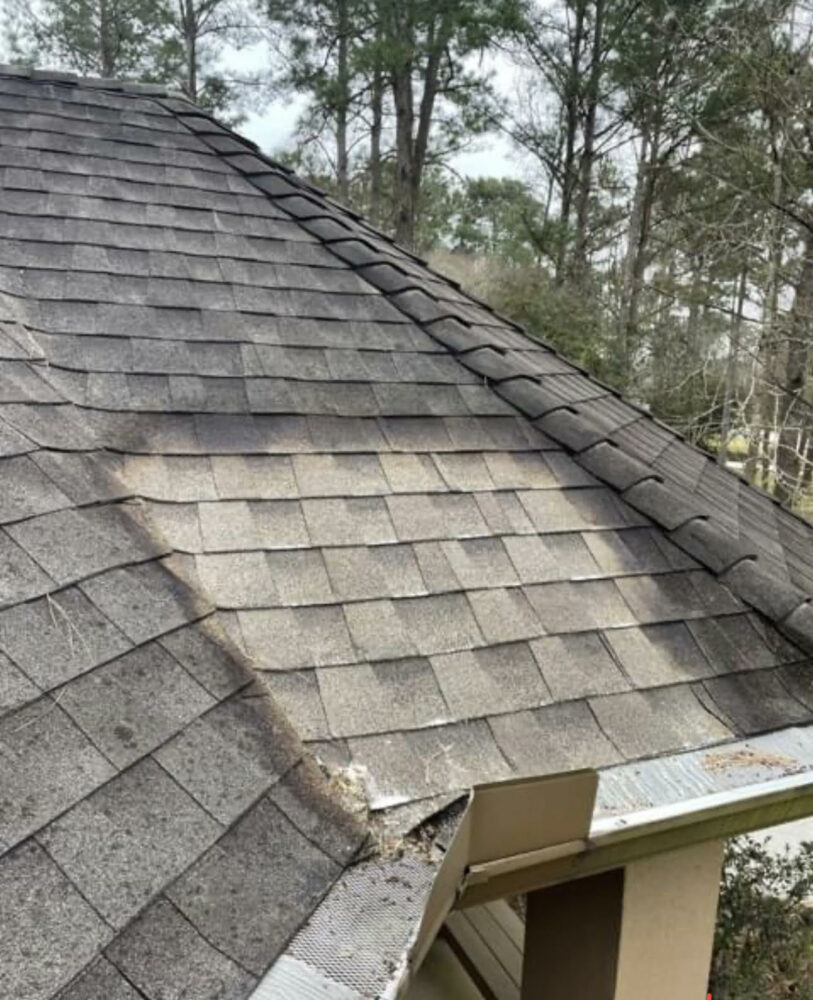 Effective Cleaning Methods for Your Roof
At GreenLine Home Washing, we are committed to providing you with practical and effective cleaning methods for your roof. Our expert team understands the significance of maintaining a clean and well-maintained roof, not just for aesthetic reasons but also for the longevity of your property. With our comprehensive approach, we utilize gentle yet powerful techniques that ensure the treatment and removal of moss, algae, lichen, and other contaminants that can compromise your roof's integrity. Our eco-friendly cleaning solutions guarantee a thorough and safe roof cleaning process. Trust GreenLine Home Washing to deliver practical and reliable solutions that leave your roof looking refreshed and in optimal condition for years to come.
Metal Roofs
Asphalt Shingle Roofs
Cedar Shake Roofs
Tile Roofs
And More…
Our Services
Professional Pressure Washing Services
GreenLine Home Washing offers a wide range of services, including pressure washing, soft washing, roof and gutter cleaning, and eco-friendly exterior cleaning solutions, delivering outstanding results for homes and businesses across the Twin Cities.
Transform Your Roof Today with GreenLine Home Washing!
Unlock the true potential of your Minneapolis residence through essential roof cleaning. Our proactive maintenance not only prolongs your roof's lifespan but also eradicates unappealing mold, algae, lichen, and moss, breathing new life into its aesthetic allure. Partner with GreenLine Home Washing's skilled roof cleaning professionals and experience a complete transformation for your property.