services
Keep the Exterior of Your Minneapolis Home Pristine with Professional House Washing
The exterior of your Minneapolis home is in constant contact with natural pollutants, from dirt to pollen to rain. The pressure washing specialists at GreenLine Home Washing use house washing techniques that remove all signs of these elements with environmentally-friendly cleaning solutions that protect your home's exterior.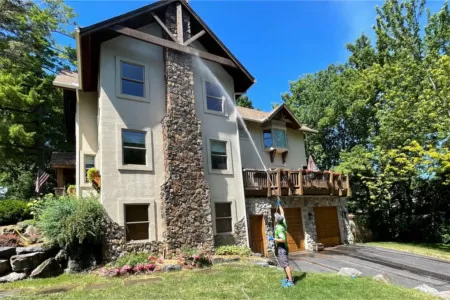 Transform Your Exterior with GreenLine's Expert Soft Washing
At GreenLine Home Washing, we understand that your home is not just a place; it's a reflection of your personality, style, and pride. With our expert soft washing services, we go beyond surface-level cleaning to restore the beauty and integrity of your home's exterior. Our team of dedicated pressure washing professionals is committed to delivering exceptional results, using cutting-edge techniques and eco-friendly practices that ensure your property remains stunning and well-maintained.
Why Choose Soft Washing?
Soft washing is a revolutionary method of exterior cleaning that combines low-pressure water delivery with specially formulated, environmentally safe detergents. Unlike traditional pressure washing, which can cause damage to delicate surfaces and force water underneath siding, soft washing gently cleans away dirt, grime, mold, and algae without harming your home's exterior. It is also the technique our experts use for roof cleaning, deck cleaning, or for cleaning any other fragile surface of your home.
Importance of Routine House Washing
Routine house washing is a vital component of home maintenance that extends beyond curb appeal. The accumulation of algae, mold, and mildew on your home's exterior can have far-reaching consequences, both aesthetically and health-wise.
Algae growth, if left unchecked, can permanently stain and damage your home's siding. Simultaneously, the presence of mold and mildew can exacerbate allergy and asthma symptoms, potentially impacting your family's well-being.
By proactively scheduling regular house washing, you effectively eliminate allergens, resulting in a reduction of adverse health effects for you and your loved ones. Furthermore, this preventive measure can spare you from costly repairs arising from algae, mold, or mildew damage.
Timing is key, and there are specific circumstances that indicate the need for house washing services:
While weather elements affect your home, proactive steps help. Contact GreenLine for house washing in Minneapolis. Ensure a cleaner, healthier living space and prevent long-term damage and costs. Trust GreenLine for your home's best care.
Our Services
Professional Pressure Washing Services
GreenLine Home Washing offers a wide range of services, including pressure washing, soft washing, roof and gutter cleaning, and eco-friendly exterior cleaning solutions, delivering outstanding results for homes and businesses across the Twin Cities.
Transform Your Home Today with GreenLine Home Washing!
Bid farewell to unsightly stains, mold, and algae that detract from your home's beauty. Rely on GreenLine Home Washing for professional, safe, and effective soft washing services. Our expertise will revitalize your property's curb appeal and enhance its value. Don't hesitate; reach out today to schedule a consultation and experience the transformative benefits of soft washing for your home. Your path to a cleaner, more beautiful home begins right here!