services
The Trusted Commercial Building Washing Service
Every commercial building needs a refresh from time to time. Dirt, grime, and pollutants all conspire to make your property look dingy. When it's time to clean up, look no further than GreenLine Home Washing – your premier partner in restoring the pristine appearance of your property. With our expert commercial building washing service, we combine cutting-edge technology and eco-friendly practices to deliver outstanding results that leave a lasting impression.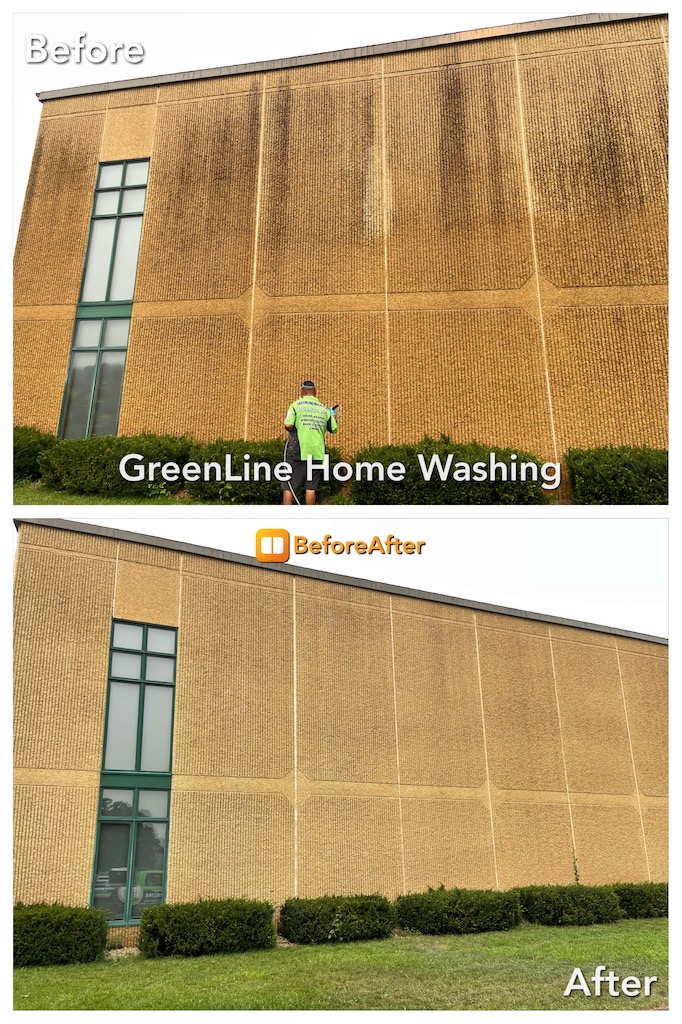 Maintain Your Investment with Commercial Building Cleaning
At GreenLine Home Washing, we understand that the exterior of your commercial building is the first thing customers, clients, and partners see. Make a strong first impression with our professional building washing service.
Improved curb appeal – Cleaning the exterior of a commercial building can drastically improve its appearance. Removing dirt, grime, mold, and mildew presents a professional image to customers and makes the property more attractive.
Protect the building – Letting exterior grime and dirt build up can actually damage the building over time. Building washing can remove contaminants that can eat away at paint, brick, concrete, and other materials.
Health reasons – Dirt, mold, and mildew on the outside of a building can circulate into the interior. This can worsen indoor air quality and potentially create health hazards for employees and customers. Regular washing keeps these risks down.
Why Choose GreenLine Home Washing?
Expertise and Experience: Our team of highly trained technicians has years of experience in the industry. We have successfully rejuvenated a wide range of commercial buildings, from small office complexes to large retail centers. You can trust us to handle your building's unique needs with precision and care.
Cutting-Edge Technology: We utilize state-of-the-art pressure washing equipment and techniques to effectively remove dirt, mold, mildew, and other stubborn contaminants. Our modern tools ensure a thorough and gentle cleaning process that protects your building's integrity.
Customized Solutions: We understand that every commercial building is different. Our team assesses your building's specific requirements and tailors our services to achieve optimal results. From brick to stucco, glass to metal, we have the expertise to clean all types of surfaces effectively.
Curb Appeal and Property Value: A clean and well-maintained building adds significant value to your property. Our building washing service not only enhances curb appeal but also helps extend the lifespan of your building's exterior, saving you money on future repairs.
Customer Satisfaction: Our top priority is your satisfaction. We go the extra mile to ensure that your building looks its best after our service. With a strong track record of happy clients, we take pride in the trust our customers place in us.
Flexible Scheduling: We understand the demands of running a business, which is why we offer flexible scheduling options. Our team works around your timetable to minimize disruptions to your operations.
Proud to Serve These Clients And Many More
Our Services
Complete Exterior Commercial Cleaning Services
For a comprehensive clean that encompasses all of your property's surfaces, combine our building washing service with another one of our professional pressure washing services.
Start Fresh with Commercial Building Washing
When it comes to commercial building washing, GreenLine Home Washing stands out as a reliable and professional choice. Our commitment to excellence sets us apart in the industry. Transform the appearance of your commercial building today – contact us for a free quote and consultation. Let GreenLine Home Washing bring back the sparkle to your property.