services
New Brighton Relies On GreenLine Home Washing For Top Pressure Washing Services
If you live in New Brighton, FL, you know that it's a great city with a wonderful homey feel and beautiful landscapes and neighborhoods. Your beloved New Brighton home deserves to have pressure washing professionals who appreciate it and care for it just the same as you do. That's where we come in.
Though we at GreenLine Home Washing haven't been a pressure washing company for very long, we have a whole decade of experience in the industry. You can be sure that with us, your residential or commercial property is in the best hands possible. Allow us to take care of your property's exterior so that you don't have to.
New Brighton Roof Cleaning
The roof of your New Brighton home is undoubtedly one of the most important parts of your house. Your roof keeps your home and your family safe over the years, so it's incredibly important to keep it clean so that it can continue doing so. The benefits of regular roof cleaning include:
Increasing your home's visual appeal and your property's overall curb appeal.
Ridding your roof of any debris that may be stuck, thus protecting it from becoming damaged by it.
Clearing your roof of algae, mold, mildew, and any other unwanted and harmful growths; if not taken care of, these could grow and spread and become health risks to your family.
Keeping your roof in its best condition and therefore protecting it from damage; can save you plenty of stress and money down the line by preventing the premature need for repairs or replacements.
Extend the lifespan of your roof.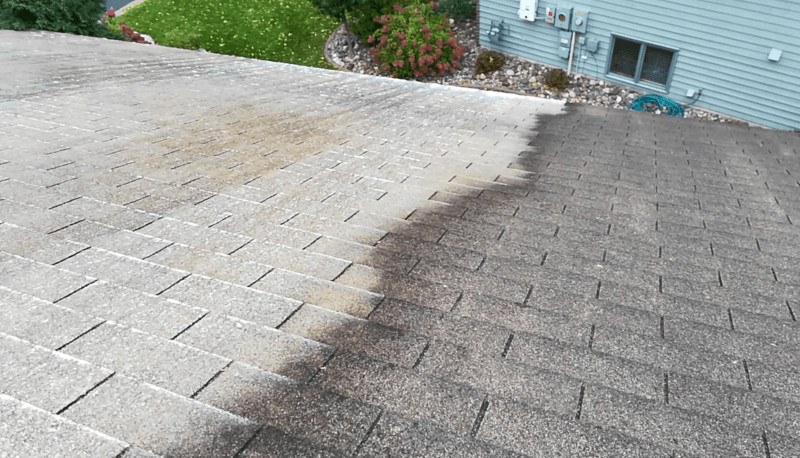 Rather than wait until there is a noticeable issue, regular pressure washing for your roof is a preventative and protective measure that is easy to take.
New Brighton House Washing
Regular professional pressure washing of your house's exterior has plenty of benefits as well. Not only does it have obvious visual or aesthetic benefits, but health and safety-related benefits as well. Over time, your home can become home to mold, mildew, and algae. These could even spread under the siding, leading to damage that requires extensive repairs and replacements. Regular pressure washing can also get rid of any dirt and dust build-up, which can limit the number of such substances that reach the inside of your home as well.
If you live in New Brighton and are in need of superior pressure washing services for your residential or commercial property, call us today at 763-227-2531 to schedule a service.