services
GreenLine Home Washing: The Minneapolis Leader In Pressure Washing
If you like quiet living, open space, and a suburban feel, Lino Lakes is the perfect place for you to settle down. With such a nice and beautiful area, it's important to keep your property looking and feeling great; with the help of a trusted pressure washing professional, this is easier to achieve than you may think. Leave your exterior property cleaning and upkeep to us.
We at GreenLine Home Washing understand that it requires a lot of trust to allow anyone onto your property to take care of it. We don't take that lightly or for granted. We make sure to earn and keep the trust of all of our clients. We care greatly about the properties we clean and we just want to help you protect and maintain the condition of your home or business property.
Professional Roof Cleaning For Your Lino Lakes Home
Are you thinking you might put your home on the market at any point? If you are, then you need to make sure its exterior always looks great. After all, a beautiful exterior will help to ensure your home boasts the best curb appeal and the highest possible resale value.
If your Minneapolis home's exterior is suffering from unsightly dirt and algae growths, you need to give us a call before listing your home. We'll get it market-ready in no time at all with our thorough house washing work. In little time, your home will be ready to get sold for the highest price!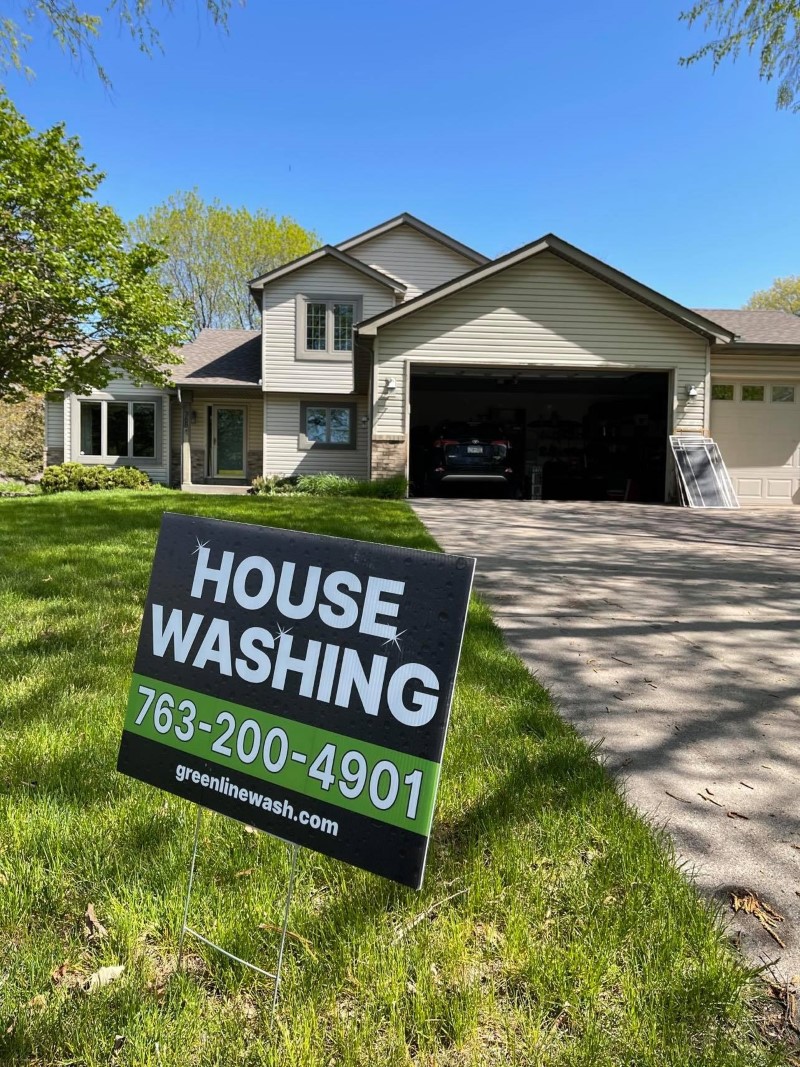 Quality Gutter Cleaning Work in Minneapolis
Roof cleaning is an extremely important part of property upkeep and maintenance. Having a clean roof can make a huge difference in the safety and stability of your entire home. The many benefits of routine roof cleaning include:
Ridding your roof of bird droppings, pests, allergens, debris, and other unwanted things.
Eliminating mildew, algae, and mold. If left unchecked, these could potentially grow and spread to the interior of your home or cause structural damage to your roof.
Protecting your roof from damage. Save yourself from costly repairs and replacements by having your roof cleaned by a professional once a year.
Increase the lifespan of your roof.
Improve the curb appeal of your home.
Pressure washing your roof is not something you should try to do yourself, for the sake of both your roof and yourself. Rather than risk injuring yourself or damaging your roof, allow a trusted professional like us to do the job for you.
Treat Your Beloved Lino Lakes Home To A Professional House Washing
When it comes time to pressure wash your property, don't forget about the exterior of your house. Pressure washing your home each year can have plenty of benefits, just like with your roof. If you want your home to be as clean, safe, and healthy as it can be, investing in routine professional pressure washing is a great way to achieve and maintain that. A healthy home environment makes for a happy one. If you live in Lino Lakes and you are looking for a trustworthy pressure washing company to take care of your residential or commercial property, call us today at 763-227-2531.